The Stiltz of florida Home Elevator is an innovative and elegant residential elevator that can fit easily into your home. Our Stiltz of Florida Home elevators are designed add beauty and elegance to any home to help you stay as active as you wish. When climbing the stairs isn't as freely taken as it use to be.  Stiltz of Florida elevators as easily fitted into a home in less then a week this would also include the construction which would include the cutting of the opening and reinforcing for a structurally sound installation.  So Attractive and  so effective, the home elevators are an affordable alternative to doing the stairs or installing a  stair lift. A residential elevator from Stiltz of Florida will allow you to have the same lifestyle you have always had.  Not a second thought with a Stiltz of Florida elevator nothing changes.  Our Stiltz of Florida elevator also can be use to transporting small pieces of furniture, luggage, laundry, even your family pet will love it.  For a gallery of photos of some of our installations go to StiltzofFlorida.com/Gallery.  You would be amazed how many people also buy the Stiltz of Florida Elevator for their family pet.  You'll see all the pictures in our gallery of photographs.
Small footprint, quiet, and fast installation gets this done in days not weeks with Stiltz of Florida.  Our Stiltz of Florida Elevator has Self Contained Drive System. All housed above the head on the Stiltz Home Elevator no additional machine room needed to take up space.  Our smallest DUO ALTA takes 42″ wide rail to rail and 28″ Deep fit 2 people up to 375 lbs.
The Stiltz of Florida Home Elevator uses a  drum-braked gear motor drive system which again is seated nicely in the top of the cab on the lift.  It's the same concept as if when you watched the jetsons cartoon years ago.  What took us to long to get here I don't know.  But, I am sure glad we are here and able to experience this technology.  Our grand parents would have loved this equipment in their homes. The  Power side of the Stiltz of Florida Elevator is very simple as well either a 200 outlet is placed and if this is not available then we have a step up transformer that will do the job using very little electrical consumption it is very efficient.  So, if a Stiltz of Florida home elevator is something your thinking about we are here to guide you every step of the way.  Our sales team is awesome. Covering the entire state West Palm, Boca Raton, Jupiter, Fort Lauderdale, Miami to the Keys and Naples, Sarasota, Gulf Port, Brandon Tampa to Orlando to the Panhandle.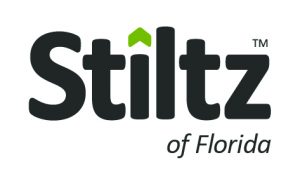 Call 877-361-3381
or email us at info@stiltzfl.com