An easy, adaptable solution, the Stiltz Trio is big enough to accommodate a standard wheelchair or walker.
The Stiltz Trio Elevator is an innovative wheelchair lift that has been designed to answer wheelchair users' accessibility needs in the home. Larger than the Stiltz Duo Elevator but still compact, the Trio can fit a standard-sized wheelchair and is ideal for users with a walker or rollator.
The wheelchair elevator allows you to live independently at home and is the perfect alternative to a stairlift. Its larger interior cab space and heavier weight capacity means the wheelchair lift can carry an extra person, easily transport luggage and carry other bigger items. There is no product on the wheelchair home elevators market that can be fitted virtually anywhere in the home like the Stiltz Trio.
Unlike other wheelchair lifts, the Trio does not use noisy hydraulics or vacuum systems as it is powered by a quiet electric motor drive system. It plugs straight into a regular outlet and delivers flawless performance. The wheelchair lift does not require load bearing walls as the elevator uses the unique Stiltz dual rail technology which creates a self-supporting structure.
The Stiltz Trio Elevator offers unrivaled flexibility in terms of placement in the home. It can be installed in just one day with minimal building work and disruption. From family room to bedroom or hallway to study, the Trio wheelchair lift requires a remarkably small space so the choice can be yours.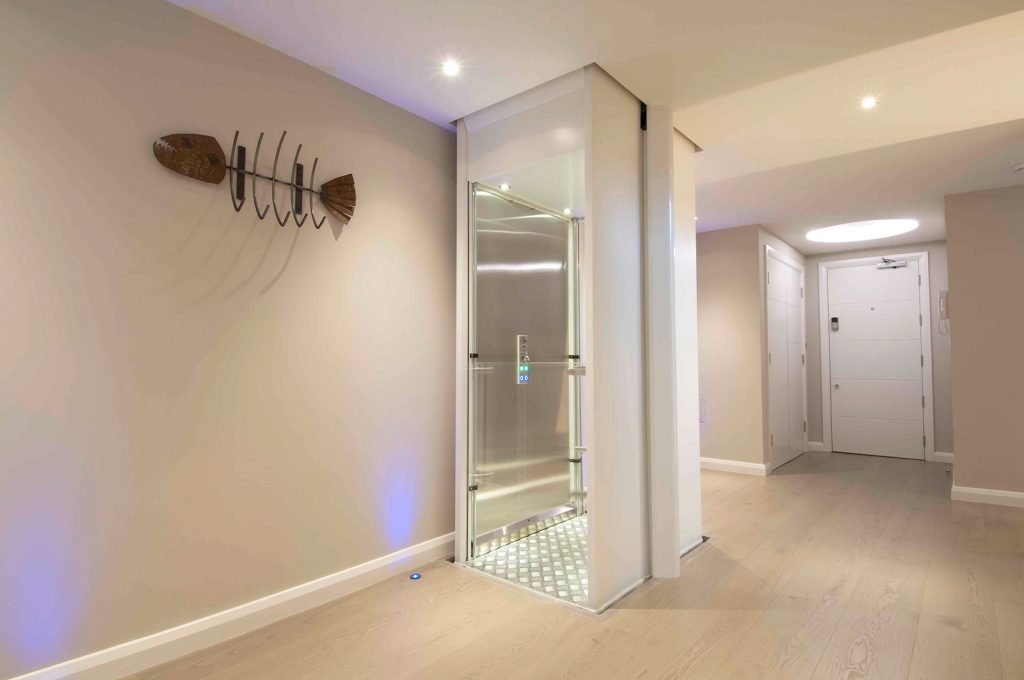 The Trio Wheelchair Elevator Selection
Stiltz Trio Classic – the Trio is a larger and heavier weight load version of the Duo Classic. Although compact it is still big enough to accommodate a standard-sized wheelchair. It is also an ideal wheelchair elevator for anyone using a walker or rollator.
Stiltz Trio Vista – has solid side walls and is fitted with a clear back made from structural polycarbonate at the back to give it a contemporary look. The Trio Vista allows natural light to flood in if the wheelchair lift is placed in front of or close to a window. It offers all the same features as the Classic.
Stiltz Trio Thru Car – allows users to enter and exit from both sides of the elevator. This is made possible by the unique Stiltz dual rail technology. There is no other wheelchair home elevator of this kind on the market that is capable of having a double entry or thru car configuration. It offers all the same features as the Classic.
Trio Wheelchair Lift Benefits

Small Footprint
Smallest footprint of any wheelchair lift – covers less than 13.5sf surface area

Quiet
Powered by a quiet electric self-contained motor – no noisy hydraulics or vacuum systems

Fast Installation
Elevators are made up of modular sections – standard installs take as little as one day

Power Consumption
Plugs into a regular 110v or 220v power outlet – like any other household appliance

Unique Guide System
Two parallel and vertical guides bear load of the lift – self-supporting structure

Self Contained Drive System
Housed at the top of the lift, out of sight
Trio Wheelchair Elevator Specifications
Standard Finishes A neutral cream exterior and door with a beige interior lining color.
Half Height Door The door is interlocked and is made to match the finish of the lift.
2 X Remote Controls Call and send the lift remotely and also use it to move heavy or awkward items between floors.
Two Year Warranty All Stiltz home elevators carry a standard two-year parts warranty.
Internal LED Downlights These are programmed to turn on once the user has entered the lift and remain on for the entire journey.
Battery Back Up System If there is a power outage while using the lift it will descend to the lower level of the home and wait until the power comes back on.
Full Height Light Curtain Light Curtain when fitted with half height door.
Interior Telephone In the very unlikely event that the lift stops while you are travelling in it, help is just a phone call away.
The Trio Wheelchair Lift Footprints